Chntpw booting the kernel. Hangs after the 2019-04-01
chntpw booting the kernel
Monday, April 01, 2019 12:05:45 PM
Larry
6.4.3 hangs on the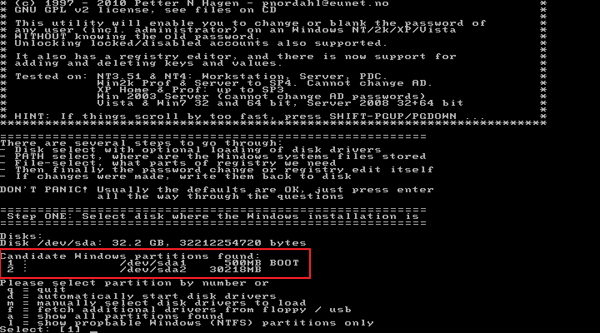 How to Reset Windows Local Password with Parted Magic? System Recovery wont work neither as password is required. Now you can log on to your computer without Windows prompting you for a password. This also applies to chntpw. As i sad no problem with knoppix 6. I may be totally wrong, but isn't loading windows kernel some of the first parts of a windows boot process and happen well before a login screen? Utilman is the Ease of Access button that you see at the Windows login screen.
Next
Booting the Kernel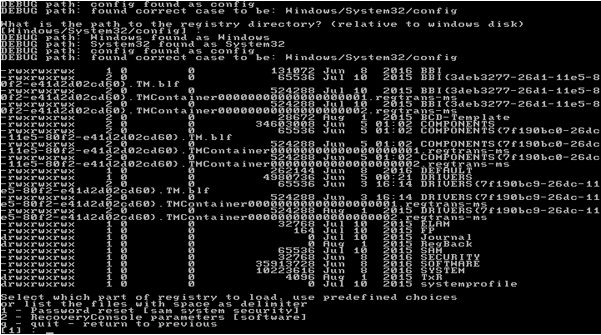 Everything is written in C from now on. After solving your problem, please mark it as solved by clicking 'flair' and confirming the 'solved' tag. I have been using Slackware as my desktop since 3. You are looking for two files: utilman. But when I try to login from Windows it does not seem to be changed. Finally, Patrick Moroney suggested by Robert Love in the comments for this post.
Next
Offline Nt Password & Registry Editor Kernel Panic
After rebooting you will be able to log in to Windows 7 without entering a password. I this case it is worth to wait, maybe it is just a blocker and the kernel continuous after a while e. I'm new to this formu, so I would like to say hello to everyone. I don't know much about this stuff, so try to explain it simply. . The Milo program is a stripped-down version of the Linux kernel: it has all the Linux device drivers and some filesystem decoder; unlike the kernel it doesn't have process control and includes Alpha initialization code. The first approach pressing the tab key is therefore faster and more reliable.
Next
admin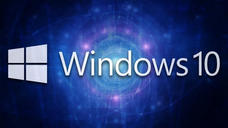 As any command the command can also have command line arguments. I'm playing with knoppix from 6. In case of dhcp start the client daemon dhcpcd eth0 or start it via its unit systemctl start dhcpcd eth0. The other account that we needed to get into was a live account. S, outside of the boot directory.
Next
Kernel
S for Alpha is much shorter than the equivalent x86 source file. This is a call from which No One Ever Returns. The file extracts into a folder and within that folder you will find the bootable. However, here are the steps to reset your windows password with chntpw, check if you have any confusion with your steps. Next click Yes to confirm that you want to cancel the Windows 10 installation.
Next
How to Reset Lost Windows 7 Password with Hiren's Boot CD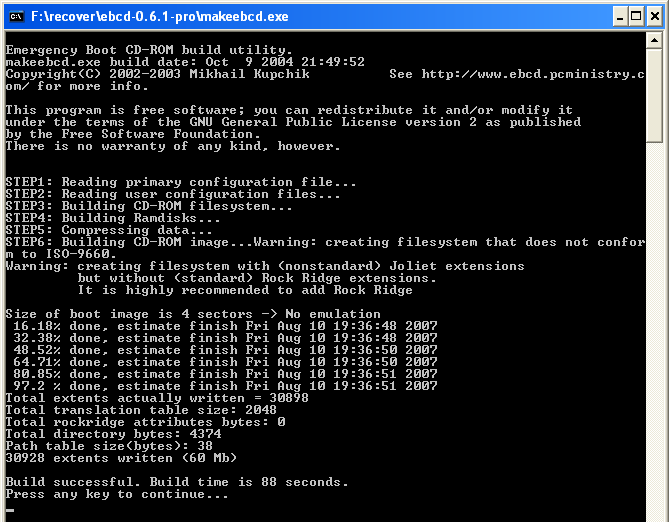 If you choose to receive security code via phone, you should receive a text message instead. It will just show the name of your flash drive. Many of the same problems are faced and similar initializations must be done. Select Rescue and then click Change Windows Password. Modern boot loaders ignore this legacy code. Booting the Kernel Booting the Kernel June 1997 Reprinted with permission of Linux Journal This article describes the steps that are performed to boot the Linux kernel.
Next
[Solved]Chntpw Doesn't Work on Windows

The file that gets booted will usually be linload. May your uptime be long and untroubled. Your situation may be different if you have multiple partitions or hard disk drives. Which is really kind of cool. This is easily corrected by editing the above file and changing ttyS0 to ttyS2.
Next
[Solved] Stuck at the / Newbie Corner / Arch Linux Forums
Even if you don't run Lilo, you can enjoy the documentation files that are distributed with Lilo's source code. That being said, no output was generated nor logged, am I missing a verbose option to do so? Unlikely Milo likely Lilo , Silo is able to boot another operating system. Decompression happens in-place and once it's finished the uncompressed kernel image has overwritten the compressed one pictured in the first diagram. It can also uncompress the image because it includes inflate. It's interesting to note that Sbus devices are platform independent, and their initialization code is portable Forth code rather than machine language bound to a particular processor. I did not change any hardware part of the system: it is the very same.
Next